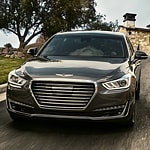 Our Rick Case Genesis team members are big believers in safe, smart vehicles. The Genesis G90, a new luxury midsize sedan, fits the bill perfectly. Designed with a variety of innovative features, this car helps you get from A to B without a hitch.
Sometimes, drivers don't realize when they're tired or distracted. The Genesis G90 has your back — it's always analyzing your driving patterns. When it senses a difference, it lets you know that it might be time for a break using visual and audio alerts.
As you're navigating high-speed traffic, the G90 makes sure that you steer clear of surrounding cars. That's thanks to the Lane Keeping Assist feature; it watches your lane markers and lets you know when you're getting too close to the edge. If you don't notice, it can even steer you back to safety. See how it keeps you safe by test driving the G90 at Rick Case Genesis today.